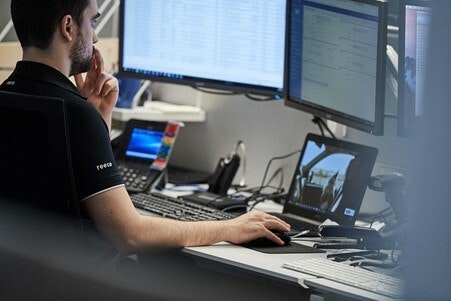 iOS or Android? Why choose? No matter what type of devices our people prefer, we make sure they have the best tech to help them get on with the job and support our customers. 
We see opportunity
Our Cycle Count app is used in branch daily to help monitor and maintain stock levels, ensuring we always have what our customers need, when they need it. Originally designed for iOS, COVID-19 saw us running short of Apple devices. We wanted to make the app available for everyone at Reece, no matter what device they choose to use.
Where others may have seen a challenge, we saw an opportunity. The opportunity to try something different, trying a technology we hadn't used before, learning plenty along the way.
We embraced Google's 'open source user interface toolkit', known as Flutter. Allowing us to create seamless experiences for our people across a variety of platforms, and operating systems, using a single codebase.
We're flexible
We embraced the challenge to have the app available on the Android Platform and started with a proof of concept with hybrid technologies. Flutter showed cross-platform operability and a developer experience to suit both back-end and app developers. The team enjoyed the whole process and learnt a lot about the new technology. 
"Flutter is simple and easy to learn. It offers a robust ecosystem across iOS, Android and Web emulators with a hot reload feature for faster development." said Nitesh & Lily, Project Members.
"We aren't afraid to take risks and understand sometimes you need to fail before you succeed. We encourage our people to innovate and challenge the status quo." 
Engineering Lead at Reece, Yogesh, added "We're challenged to think outside the box every day, we readily adopt the latest tech to create even greater experiences for our people and our customers." 
From idea to live product, bringing our Cycle count app to Android took just five weeks. Our branch teams now have the choice of devices to get the job done.
Reece is always on the look-out for talented engineers to join the team, bringing an existing skill-set and with a willingness to develop new ones with us.
Get in touch with us here.