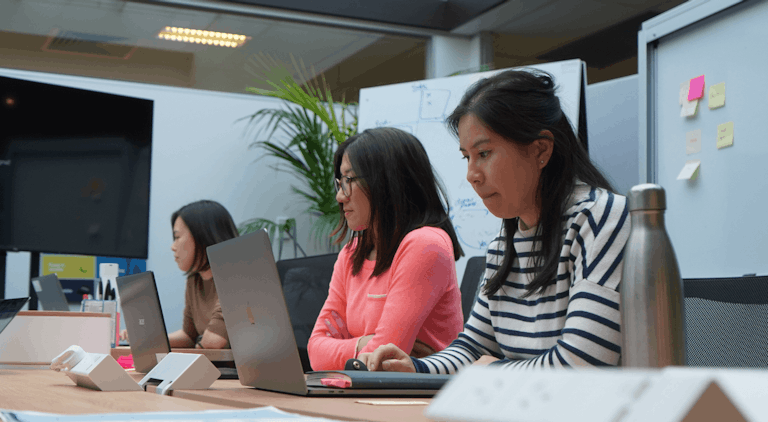 OMG, I got the internship!!
I couldn't believe it as I got off the phone with the recruiter at Reece and told my partner. My face was beaming, the adrenaline was flowing through me, and I just felt so proud of myself at that moment in time.
I was going to be interning as a UX Designer for 3 months at The Reece Group.
I couldn't have been anymore happier as this was my first user experience role within the design industry. My career so far had been a combination of sales and marketing, so this was the perfect opportunity to get my foot into this new industry.
In less than a week from receiving this news, I was standing outside of Reece, on my first day, meeting with my new colleagues.
What did I get up to?
The main goal of the internship was to conduct discovery research for the user experience team that was working on Actrol, a subsidiary of The Reece Group, that specialised in the supply of commercial refrigeration parts and equipment.
The research was going to help the user experience team discover and understand how the Actrol branch staff serve customers and explore if the development of digital tools could help them do their work better.
I observed and interviewed all the branch staff, which lead to a plethora of observations that were later analysed to reveal some interesting insights for my team.
The research outcomes, insights and opportunities from this project were then presented to my team and to the wider key stakeholders, which was super exciting and the best part of my internship.
What did I learn?
It was great to understand the context in which the branch staff carried out their normal working activities and observe additional habits, behaviours and interactions that I wouldn't have potentially been able to pick up through a remote 1–1 interview.
Refining my research questions was also a learning process as I wanted to get the most out of the time I was spending in each branch.
Besides the main discovery research that made up most of my internship, I was also able to:
learn more about working within a design team with other UX designers, product managers and developers

understand the design process of going from a concept to the release of the design into production aka the real world

practice using design tools such as Figma and Miro

be in a position to produce a strong case study to add to my design portfolio at the end of the internship

learn a lot about commercial refrigeration, which is something that I didn't think I'd ever need to learn in my life
What's it like working at Reece?
My experience working at Reece has been fantastic. I honestly could not think of a better way to begin my user experience career.
Right from the beginning, I wasn't shadowing or assisting in another UX designer's work.
I was provided with a real project with a real problem that I could lead and own.
This was a little bit daunting but exciting, and I couldn't have done it without the support of my team, who made me feel comfortable, challenged me and were there to guide and provide all the support that I needed.
Reece has a culture that I definitely did not expect. I see Reece's values on the walls of different offices and branches, and can say that it's the first time in my career where I've continually seen or experienced those values.
What I'm doing next
I've officially wrapped up the research project now and I'm happy to say I'll be hanging around at Reece for the foreseeable future as a permanent UX designer.
I'm already transitioning into my new team and getting my head around a new exciting project, and taking on some new side projects and initiatives within the UX design team.
It's going to be an exciting journey for me and I can't wait to see where it takes me.
Serena - intern turned UX designer.