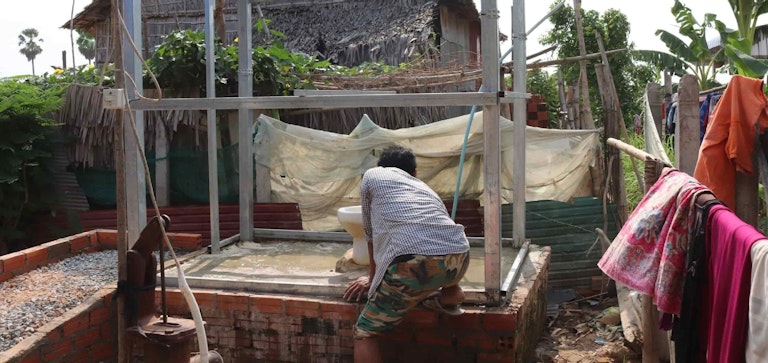 Siem Reap is the gateway to Angkor Wat, Cambodia's most famous tourist destination. But despite the roaring tourist trade, Siem Reap is one of the poorest provinces in Cambodia, in one of the poorest countries in Southeast Asia. An estimated 3 million people live without fresh water, and 6 million people live without proper sanitation.
Dave McNulty has had a passion for aid work in general across Southeast Asia, including Timor-Leste and Sri Lanka. One of his regular donations was to Heartprint — an Australian not-for-profit that works to assist impoverished families in Cambodia. Heartprint has several regular programs, including a community centre that provides education, housing and awareness for people in crisis. Another one of their major works is Community Builds - building homes, toilets and clean water wells throughout Cambodia.
Dave applied for a Reece Grant to help fund the construction of not just one but 20 toilets throughout Siem Reap. The first milestone, the installation of the second of the 20 toilets, was completed in May of this year.
The construction of the toilets is relatively simple. Two long-drop loos are dug into the ground, connected by blue pipe. The team also construct a concrete floor, which allows the toilets to also function as washing facilities, giving the household some welcome privacy.
Most of the toilets are built out of steel and tin. However, the second toilet was something special — the local family were bricklayers, and they chipped in with their labour to build a brick and mortar wall around the toilet. Garry from Heartprint said the reception has been amazing, "we've got some very happy families here in Cambodia."