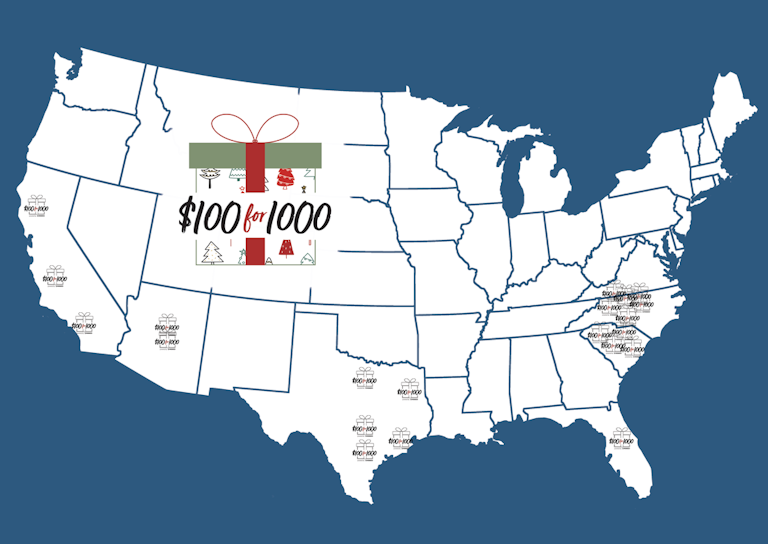 More than a decade ago, Fortiline Waterworks created a message of light within the community through its $100 for 100 program. This program gave children the opportunity to celebrate the holiday season with $100 gift cards to buy new clothes, toys, and essentials they may not have had otherwise. Last year, Reece USA expanded this initiative from 100 to 1000 children - that way, more kids were able to have more joy during the holidays.
Reece USA Team Members nominated children and family-based organizations as potential recipients of the $100 for 1000 gift cards for 2021. Nearly 40 nominations were received for more than 1,500 cards.
The Charity Committee reviewed every submission, and after reading all of the stories, the final selections were made. Cards were distributed in time for the organizations and children to do some Black Friday shopping.
The $100 for 1000 program will return again next year so Reece USA can continue to give families in need an opportunity celebrate the holiday season.
Here are the $100 for 1000 recipients for 2021:
·        ASA Now - Jacob's Mission Community Center – Mesa, AZ
·        Berkeley County School District's Deaf and Hard of Hearing Students – Moncks Corner, SC
·        Black Mountain Home for Children – Asheville, NC
·        Campaign One at A Time – Sacramento, CA
·        CASA of the Pines, Angelina County Texas – Lufkin, TX
·        Children's Hope Alliance - Barium Springs Campus – Statesville, NC
·        Church of God Children's Home – Concord, NC
·        Crosswell Home for Children – Sumter, SC
·        Epworth Children's Home – Columbia, SC
·        Functional Life Skills Classes - Lincolnton High School – Lincolnton, NC
·        Lancaster Children's Home – Lancaster, SC
·        Mission Concepcion Church – San Antonio, TX
·        Nancy K. Perry Children's Shelter – Lexington, SC
·        Operation Underground Railroad – Anaheim, CA
·        PowerCross – Statesville, NC
·        St Jude's Children's Research Hospital – Phoenix, AZ
·        St Jude's Ranch (children's home) – Bulverde, TX
·        St. Margaret's Center – Lennox, CA
·        The Ark/Echo Ministry – Elkin, NC
·        The Howard Phillips Center for Children & Families – Orlando, FL
·        The Salvation Army of PLANO – Plano, TX