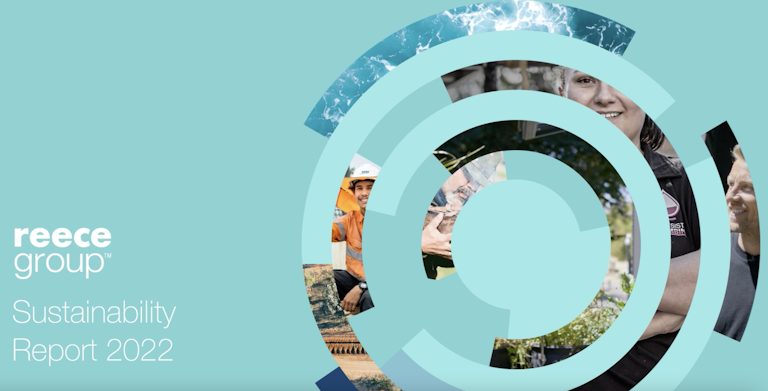 At Reece, we believe building a sustainable business is key to enabling our purpose to improve the lives of our customers and our people by striving for greatness every day. 
In it for the long term, we have come together to build a Sustainability Report that considers the way we operate now and into the future for the benefit of our people, our customers, the community and the planet. 
On discussing Reece Group's approach to creating a sustainability strategy, Reece Group Corporate Affairs Director, Lizzy Geremia said, "Like everything we do at Reece, we started by listening to our customers – the tradespeople of Australia, New Zealand and the United States. They play an essential role in society, they build the foundation for our quality of life and health by providing clean water, power, heating and cooling. And as the world looks to a more sustainable future, they play a vital role, in building a better tomorrow. And we want to help them to navigate and play their part."
Our sustainability approach is grounded in three focus areas where we think we can make a real difference. We have already made steps towards these in recent years and don't plan on slowing down anytime soon. 
Sustainable Business 
We will reduce our environmental impact and promote sustainable business practices across Reece. 
Empowered trade 
We will invest in our industry to create more sustainable ways of working.
 Resilient communities 
We will meaningfully contribute to building resilient communities where we operate.          
 We are also proud to have established environmental commitments including: 
Absolute Scope 1 and 2 GHG emissions reduction ambition from our FY21 baseline.

Work in partnership with our suppliers to measure our impact and find innovative ways to reduce our collective footprint.

We will publish our progress across our sustainability strategy annually.
We have already made progress in reducing our environmental footprint over the years, but by starting to report our progress and setting targets we will be able to increase accountability and influence change across our value chain.  
Geremia concluded, "We know there's plenty to do and we are focusing on doing it in a way that empowers our people, industry and customers. Since 1920 we have remained committed to a long-term approach - to build a business that is one step ahead of our customers' needs. As we have always done, we know that if we work together, do the right thing, and keep improving, our people, customers and communities will benefit."
In the weeks ahead, we look forward to sharing more about how Reece is already living the pillars of our sustainability strategy through a Sustainability Spotlight Series on the Reece Group website. 
To learn more about our progress and the plans for the future visit our Sustainability Page or view the Report on our Investor Centre.