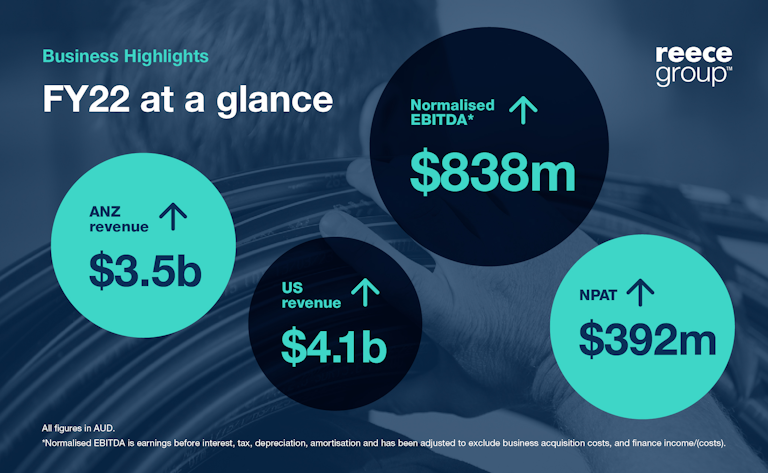 A resilient business model and culture of continuous improvement allows Reece Group to successfully navigate a complex environment whilst investing for the long-term.  
Reece Group (ASX: REH) has navigated another year of disruption and change to deliver a strong result for FY22, demonstrating the resilience of our business and customer service model. Group sales revenue was up 22% on the prior year to $7.7 billion, driven by demand, price inflation and successful execution by the team. Normalised EBITDA was up 16% to $838 million.
Peter Wilson, Group CEO, said: "We maintained our focus on both the fundamentals of our business and our vision to be the trade's most valuable partner to deliver a strong result. Despite being hit by ongoing challenges, the team successfully navigated the ongoing pandemic, supply chain constraints and natural disasters to continue delivering for our customers, who were busier than ever."
In Australia and New Zealand, revenue grew by 12% to $3.5 billion. In the US, revenue was up by 33% to AU$4.1 billion. 
Our long-term success has been founded on the strong relationship we have with our customers. We have a simple promise – Works for You - to provide quality products and expertise quickly and seamlessly, so our customers can have more time in their day to complete more jobs, bill more hours, and spend hard earned time off the tools. Our 2030 vision is about being the trade's most valuable partner in all aspects of their business. Throughout the year, we've lived our customer promise and accelerated the delivery of our 2030 strategy by focusing on improving brilliant fundamentals, investing for growth, and delivering innovation. 
In the ANZ region we progressed a wide range of brilliant fundamentals initiatives while continuing to invest in our network and drive innovation. From an operational perspective, as external challenges continued, we focused on maintaining our customised service promise, particularly by ensuring a healthy stock position to offset the impact of constrained global supply chains and utilising the flexibility of our network to focus resources on areas of high demand. Despite the external environment, we continued to invest in our people and our network. Throughout the year we opened three branches and refurbished 33 branches - including our first Bathroom Life showroom in New Zealand. 
In April 2022, we moved into 'The Works' - our purpose-built support centre designed to enable innovation and collaboration as we seek to stay one step ahead of our customers' needs and better collaborate with our growing branch network. The Works is a strategic investment to help us attract and retain talent, facilitate new ways of working, inspire collaboration, and deliver innovation for our customers of today and tomorrow.
From an innovation perspective, we developed a new 3D Bathroom Planner, Imagin3D. The planner uses precise dimensions and 3D product renders to streamline the design process for the trade and their customers. We've also innovated in terms of service offerings, launching a Plumbing Pricebook in Fieldpulse to help plumbers provide quotes to their customers faster. 
In the US region, four years on, we continue to take a long-term approach to building a successful business, focusing on delivering operational upgrades, embedding brilliant fundamentals, and building a culture and leadership team driven by our vision and values. We also continued to build scale in the network, growing our footprint to 204 branches and refurbishing a further 11, helping us prepare to bring the Reece brand into the US market. Becoming 'One Reece' across three countries is a powerful and symbolic milestone, and we are looking forward to seeing the impact it will have.
Peter added, "Looking ahead, we believe we are past the peak of the cycle in our end markets and are prepared for softening conditions. The macro setting is complex and will require careful management, but Reece has a strong track record of managing and investing to improve its business through the cycle." 
"We will continue to focus on executing our strategy to achieve our vision of being the trade's most valuable partner, by delivering brilliant fundamentals, investing in growth to improve our business, and delivering innovation to stay one step ahead of our customers' needs."
Find out more about our performance and initiatives in our FY22 Annual Report.