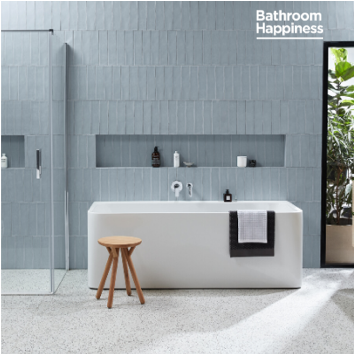 As the traditional family structure changes, we've noticed our customers' living differently. This affects the way we use our bathrooms too. With multiple generations under one roof, people are looking for bathrooms that are versatile, accessible and higher quality. Here are our key observations as we enter 2020.
People are living differently – Whether it's a share house by the beach, an apartment for one in the city or a house to accommodate three families, the requirements of the bathroom need adapt to its changing use. This means drawing more value out of the same space to suit the more people's needs. Flexibility doesn't need to cost the earth, by focussing on what's most meaningful to you and investing in the areas you care about first.
A fresh focus on accessible living – To respond to the evolving use of the home, accessible bathroom standards are becoming more common. This helps to future proof your home and allows for further customisation in the future. Wider doors for wheelchair access, built in shower seats, and extra beams in the wall to support the potential addition of grab rails, all add value in creating your forever bathroom. Accessible living doesn't need to be clinical. If considered early on, it can fit within your vision.
Customers are clued up and want reassurance – With inspiration available at our fingertips, renovators and home builders have access to unlimited information. The hard part is discovering what works best in the long-term. Creating mood boards can help you get started or speaking to an expert can turn your plans into a reality. From an initial idea through to planning bespoke experiences to create your bathroom happiness, the right advice is important to produce a space you love without blowing the budget.
Trust and build integrity – The building industry is increasingly focused on quality that will stand the test of time. From structure to hardened material finishes, every aspect of a product needs to be built to last and backed by after sales support.
Investing in forever homes – Homeowners are living in each residence longer and are investing more to create the ultimate bathroom. An intense focus on the introduction of technology to the bathroom has improved the user experience. From rimless and smart toilets to thermostatic mixers and seamless shower floors, technology adds another layer of comfort to the bathroom.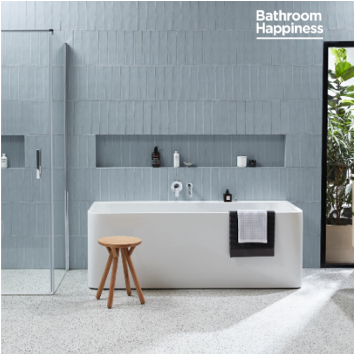 So the way we use our bathrooms is evolving. When approaching your next new build or reno, make sure you seek quality advice to ensure your bathroom meets your needs now and into the future.