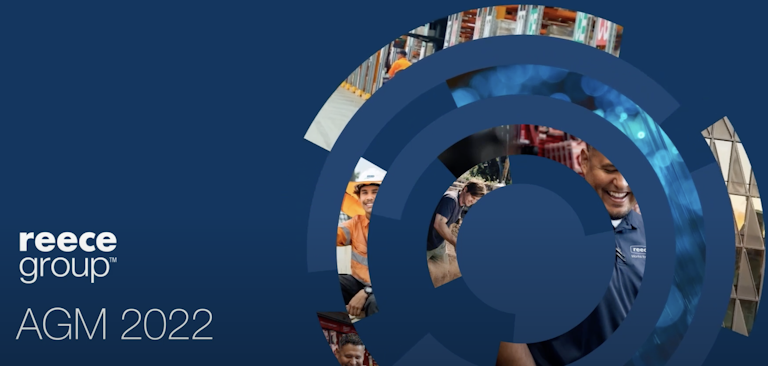 Today, we held Reece Group's 69th Annual General Meeting (AGM) at The Works - our new headquarters in Cremorne.
This year marked a moment in history for Reece with us sharing our first Sustainability Report, outlining our commitments and targets for building a sustainable business that delivers value for our customers and has a positive impact in our communities. 
The AGM was also an opportunity to reflect on our strategic progress in FY22 and to provide an update on Reece's Q1 FY23 performance. 
In the high-demand, high-disruption environment, our network density in ANZ retained a competitive advantage. This enabled us to take a flexible approach to direct our resources effectively and deliver on our customer promise, despite a high level of absenteeism and supply chain disruptions.
In ANZ, we continued to progress a wide range of 'brilliant fundamentals' activity in FY22 while investing and driving innovation forward.  As our network and customers remained at capacity, focusing on the basics of trade distribution was critical. We looked for ways to give our branches and customers time back in their day and continued to invest in the network to uphold standards. 
On the innovation front, we also made good progress. We moved to our new support centre, "The Works", in April, and delivered a range of other initiatives, including Imagin3D in Australia and maX in the US.
For Q1 FY23, Reece Group achieved sales revenue of A$2,281m for the first quarter, up 28.8% on the same period last year. In ANZ, sales revenue was up 13.9%. In the US sales revenue grew 33.1% on a constant currency basis. 
Peter Wilson, Group CEO, said, "Sales revenue for the first quarter has been strong, largely reflecting persistent inflation. We are proud of the efforts put in by our team, who continue to deliver on our customer promise. 
"We do not see the first quarter sales result as reflective of the full year, as we remain of the view that the cycle has peaked. We are anticipating softening in demand and gradual moderation in inflation in the second half of FY23. 
"As we always do, in this environment we will continue to focus on cost control while maintaining our long-term approach and disciplined investment through the cycle to build a stronger business." 
Reece remains committed to maintaining our strategic focus. As we navigate FY23, we will continue to lean into our strategic priorities – Brilliant Fundamentals, Delivering Innovation and Investing for Growth – to ensure we continue to deliver on our customer promise despite the uncertain external environment.
 For more detail on results, check out our investor centre.