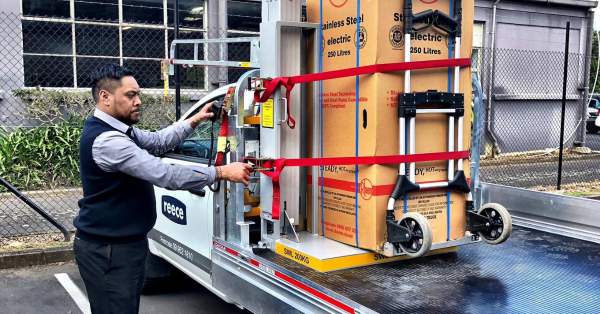 Reece has once again been recognised for innovation and its commitment to safety, taking home the NSCA Foundation's Safety Awards of Excellence for Best Solution of a WHS Risk.
The Ute Side Lifter was developed to help Reece delivery drivers transport 180kg hot water units and prevent injury to themselves as well as any damage to the units.
Group Procurement Manager Dan Jelleff worked with our supplier, Comtruk, to develop the Ute Side Lifter which took over four years and many prototypes to get right.
"Before the Ute Side Lifter, drivers would use a tail lift or manually load hot water units into their vehicle which meant getting up onto the tray to wrestle them into position," Dan said.
"These units are supposed to be transported upright which was an additional challenge, so the drivers would have to strap the units down to stop them from tipping over."
The Ute Side Lifter is fitted to the front left corner of the vehicle tray and is mechanically lowered to the ground where the hot water unit can be transferred directly from a trolley.
It's then safely strapped in and raised into position behind the passenger side seat, where it's secured for transportation.
Safety & Performance Improvement Specialist Andrew Levey said the Ute Side Lifter eliminates the need for any manual handling besides using a trolley.
"The Ute Side Lifter takes out the heavy lifting as well as the risk of falling from heights now that our drivers can just hit a button to lift these units up into the back of their ute," Andrew said.
"It also means hot water units are safely strapped into position avoiding the risk of toppling or obstructing the driver's view."
"We're also now able to safely deliver a much wider range of products than just hot water units."
Reece and the Ute Side Lifter are also in the running for the Victorian WorkSafe Best Manual Handling Solution award on Thursday 31 October.
In the last twelve months, as well as making the AFR Most Innovative Companies List, Reece has won three awards for innovation including Best Cross-functional Collaboration at Workplace by Facebook Transform ANZ in July; and Best Solution to a Manual Handling Issue at the WorkSafe Awards in October last year.