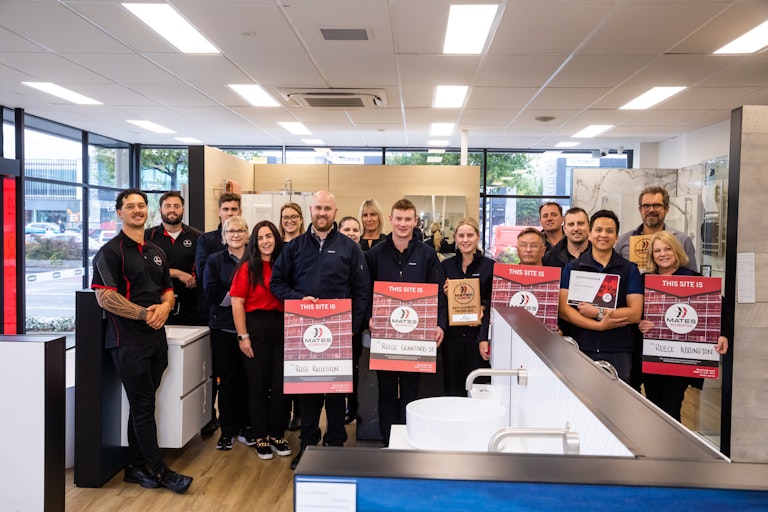 MATES in Construction is a charity that seeks to reduce the high level of suicide among construction workers by partnering with the industry to provide resources and training to enable a greater understanding of how everyone can better support positive mental health outcomes. 
Last week our Reece Plumbing and Actrol branches in Christchurch became the first of our branches in New Zealand to achieve MATES accreditation. For the past year, our five locations in Christchurch have been working towards accreditation which required the team to take part in MATES Awareness Training and Connector Training, with one member of the branch team trained to become an ASIST, (Applied Suicide Intervention Skills Training). 
As a result of this training, our branches are now better equipped to connect customers to the resources available to them if they need support with their mental health. 
Regional Leader Scott Cashman said, "Through our partnership with MATES we hope to create a positive culture around mental health, so our teams and customers feel confident to seek support when they need it.
The MATES field officers have been fantastic to work with and have been familiar faces in our branches, often popping in to check in with the teams."
Reece is committed to working with MATES across both Australia and New Zealand to deliver general awareness mental health sessions to our teams and customers, with the aim to have more accredited hubs to support our communities and the trade. 
"Reece has really committed to the program and have created an environment that welcomes MATES to share resources and host events that encourage more conversations around mental health. We have built strong relationships with Reece and are excited to recognise their commitment to the program," shared Nicole Stark, MATES Field Officer and Case Manager New Zealand.
Reece New Zealand is now working towards all our branches becoming accredited with MATES.
MATES Helpline is available 24/7 on 0800 111 315 (NZ) and 1300 642 111 (Australian) and if you're a Reece customer you can also access 24/7 counselling with Assure on 1800 808 374 Australia or 0800 464 387 (NZ).