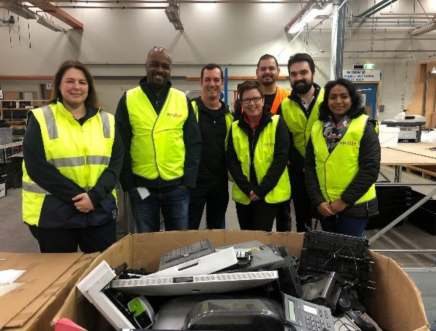 Reece is supporting disadvantaged jobseekers to learn important work and life skills, in partnership with social enterprise Enable IT Recycling. Since 2016, Reece has partnered with Enable IT to rework, reuse and recycle IT equipment from Reece locations around the country.
The partnership with Enable allows Reece to reconfigure and redeploy or recycle old IT equipment. Total transparency and the ability to trace equipment through the entire process is critical to recycling. Enable is fully accredited to recycle e-waste to the national standard. The social enterprise has grown with Reece and supported the business through peak IT turnover during acquisition integration.
Julie McKay, Founder and Managing Director of Enable, said "Social Procurement partners like Reece are essential to provide commercial work that in turn supports us to teach disadvantaged jobseekers the skills employers are after in a real industry setting." Jobseekers learn about workflow process, disassembly, equipment testing, material identification, pick/pack and importantly OH&S.
The team from reecetech recently visited the site to help the students and learn more about the process.
Marcos Kurowski, Chief Technology Officer at the Reece Group says this is a great way for Reece to support young and disadvantaged Australians.
"Reducing waste to landfill is essential. The program has a huge environmental and social impact. Beyond reducing waste to landfill, it provides young people with disability valuable work and life skills," he said.
Since 2016, Enable IT Recycling has recommissioned, resold or recycled over 50 tonnes of e-waste from Reece.