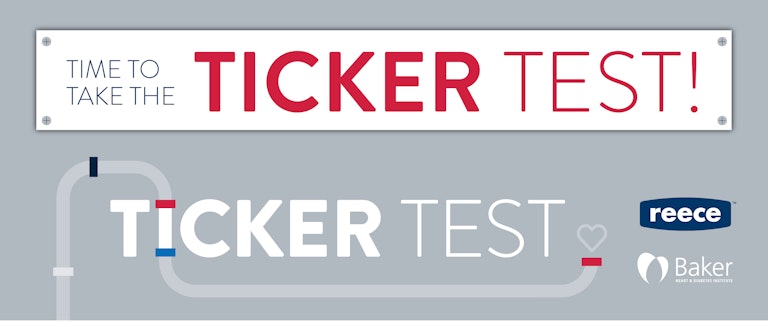 With tradies more than twice as likely to have high risk of heart disease, it is more important now than ever to take steps to change this. 
Together with our Reece Cares partner the Baker Heart and Diabetes Institute we are on a mission to change the heart health of tradies. 
Over the last year, we've worked closely with the Baker Institute, to develop and refine the "Ticker Test". Developed by researchers and cardiologists at the Baker Institute, the Ticker Test is a simple three-minute online tool that raises awareness and educates individuals on their heart health and the best way to look after it. For those deemed low risk, they will be provided with tips for managing heart health, those deemed higher risk will be encouraged to contact their GP with the help of some support resources developed by the Baker Institute. 
The nature of the job means a lot of our customers are busy, work on-site and lack the time get check-ups during work hours. While it doesn't replace a visit to your GP, the Ticker Test provides an on-the-go option to give time poor tradies a read on their overall heart health and steps they can take to prevent heart disease.  
Through our partnership, the Baker Institute will use the learnings gathered from Ticker Test program to guide further research into better ways to protect the heart health of all Australians.
Lizzy Geremia, Chief Communications Officer at Reece Group said: "At Reece, we're passionate about improving the health and wellbeing of tradies, and we know that for many of them their day-to-day food and fitness habits are having an impact on their heart health.  Our partnership with the Baker Institute has been a great opportunity for our people to not only check in on their own heart health, but also have the conversation with their customers when they come into store. We are excited to continue working with the Baker Institute and using the insights from the Ticker Test to bring greater awareness to the health of tradespeople."
Throughout the month of February, customers can scan a QR code to take the Ticker Test while visiting any one of our Reece branches.
Baker Institute Director Professor Tom Marwick says: "The work we are doing on the Ticker Test with Reece can help us make a positive change to the heart health of thousands of staff and customers. Heart disease is Australia's number one killer. By raising public awareness and furthering our research into heart disease prevention, we can propel our mission to help all Australians live healthier for longer."