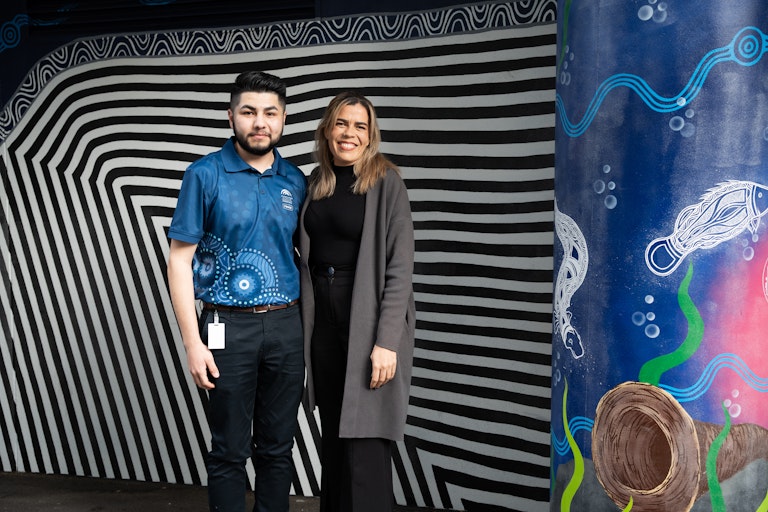 We recently relocated our global headquarters to Cremorne, located on the land of the Wurundjeri people and near the Birrarung, the Wurundjeri name for the Yarra River. To pay our respects to the Traditional Owners, Reece collaborated with artists from The Torch to create a mural on the side of our new building to connect our employees and visitors to the rich history of the Birrarung and the important role water has played in connecting our community for thousands of years. 
The Torch, is a Victorian-based organisation that supports Indigenous men and women both in prisons and post-release to explore their culture and identity through practising art. 
Ash Thomas (Yorta Yorta) & Trevor Mitchell (Barkindji) created the artwork design and story, in collaboration with other Torch artists.
Ash and Trevor shared an overview of the inspiration behind the mural, "Prior to colonisation, the Birrarung was a significant site and meeting place for clans of the Kulin nations including the Wurundjeri people. It was also an important source of food, resources and clean water that sustained many generations. The Wurundjeri people gathered food with the seasonal changes and were only able to camp by the Birrarung for long periods during warmer months. During this season they would hunt eels and fish in abundance while freshwater turtles, crayfish, platypus and shellfish were also plentiful. 
In this mural design, a representation of the Birrarung runs over the back wall with the surrounding lines representing First Nations people who have been a part of this area for many millennia. Each column depicts an underwater scene of the food sources the Wurundjeri people would source from the Birrarung with traps, nets and spears.
Social Impact Lead Emily Bellemore said, "For over 100 years, Reece has been operating on the lands of First Nations Peoples. In acknowledgment of this, we seek to build relationships to increase our understanding of the cultures, values, and beliefs of Aboriginal and Torres Strait Islander peoples that enrich the communities where we work. This mural and our collaboration with Torch is a part of our ongoing reconciliation vision to play our role in reconciliation in Australia." 
To hear more from the artists about the mural, watch the below video. Better yet, if you're in the neighbourhood, visit the side of the Works and scan the QR codes located on various parts of the mural.  
To learn more about The Torch and their work, visit thier website: www.thetorch.org.au.