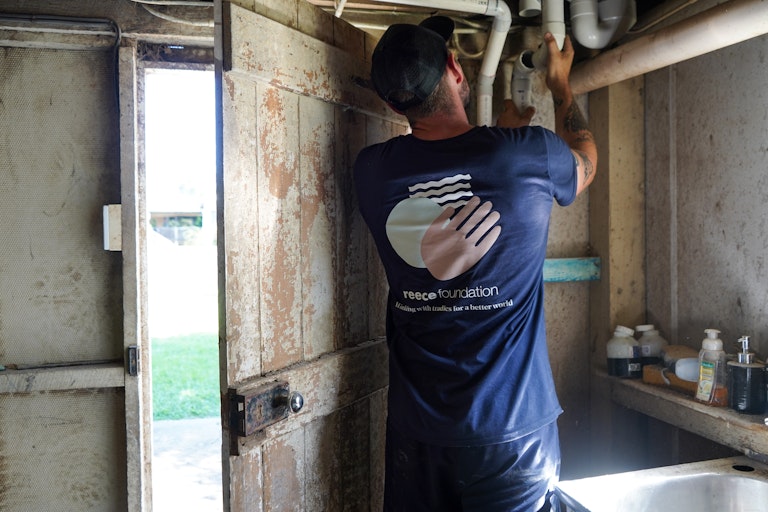 Today we acknowledge World Water Day. It's a reminder that over two billion people in the world still lack access to safe drinking water[1] –a fundamental human right and something we often take for granted. 
 In 2015, the United Nations introduced the Sustainable Development Goals – a blueprint to achieve a better and more sustainable future for us all. Collective action from government, business and individuals is needed to ensure we achieve all of the goals. For us at Reece, goal six "Clean water and sanitation for all", is where we believe we can have the most impact. 
 Through the work of the Reece Foundation and the generosity of our customers who volunteer their time and skills to make a difference, we are bringing clean water and sanitation to communities that need it most, at home and abroad. 
 The Reece Foundation empowers tradies and the trade sector to get involved in projects and work alongside local communities in need of clean water and sanitation.
 Since launching in 2022, the Foundation has delivered projects in Cambodia and Lismore with the help of tradies who have a passion for giving back.  
 In rural Cambodia, six volunteer tradies worked alongside locals to install BioSand filters, toilet blocks and handwashing stations, giving over 2,000 people access to clean water and hygienic sanitation for the first time.
 Closer to home, in NSW the barriers to access clean and safe water remain an ongoing problem for flood-affected Lismore and the Northern Rivers region. In partnership with Resilient Lismore, 13 volunteer tradies restored essential plumbing in over 70 homes.
 We're only getting started and we know there is so much more we can do. By unlocking the power of the trade and working alongside partners, like the Reece Foundation, we can all play a role in ensuring that clean water and sanitation is a reality for all by 2030. 
[1] https://www.worldwaterday.org