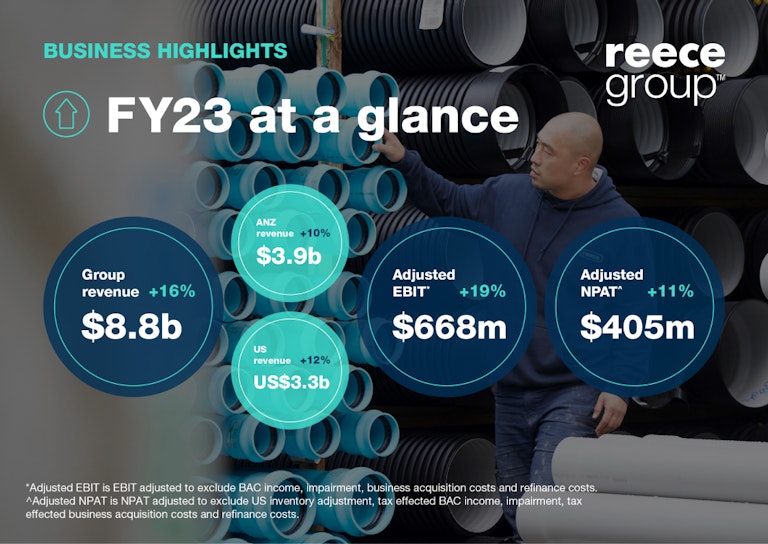 Reece Group (ASX: REH) delivered a strong result for FY23. Despite softening economic conditions in FY23, group sales revenue was up 16% on the prior year to $8.8 billion. Adjusted earnings before interest and tax was up 19% to $668 million and adjusted net profit after tax increased by 11% to $405 million.  
Peter Wilson, Group CEO, said: "FY23 has been another strong year for Reece, despite a moderation in inflation and reduction in demand from peak levels over the past few years. As ever, we focused on delivering our customer promise and our vision to be our trade's most valuable partner." 
ANZ region
In Australia and New Zealand, revenue grew by 10% to $3.9 billion, with an estimated average product inflation of 9%. 
During the year we continued to drive the delivery of our customer promise, taking the opportunity to refresh our focus on core programs including selling and trading skills, creating future leaders and continuous improvement initiatives. The training hasn't stopped there, with 250 leaders completing mental wellbeing training so we can better support our people and our customers.  
We also continued to invest in our branch network, delivering 21 refurbishments and adding a net 10 new branches to the network, including a small bolt-on acquisition in the pools space. Reece Group now operates 655 branches across the ANZ region.
As we strive to be our trade's most valuable partner, we're continuing to invest in products and innovation to give our customers an edge in the market. Over the year we launched a number of new exclusive products in ANZ, including REHAU Edge and Auspex Gas.
 US region
In the US, revenue was up by 21% to $5 billion, with an estimated average product inflation of 14%. 
Operationally, we focused on developing our team, delivering our customer promise and executing our network expansion and upgrades. We made significant progress developing our leaders and upskilling our team through our customised learning and development programs, including expanding our 'R U Ready to Lead' program for Branch Managers which has been an important part of embedding The Reece Way and delivering our customer promise in the US. 
After five years of learning and growing together, at the start of 2023, we began the rollout of the Reece brand in the US, with the transition of our California stores to the Reece brand. We've also introduced the Reece brand and service standards to the bathroom and kitchen space, with the launch of the first Reece Bath+Kitchen USA showroom in Houston, Texas. 
We also continued expanding our network footprint and uplifting standards, opening the doors of 15 new branches and undertaking 10 refurbishments. We also completed a small bolt-on acquisition of an air conditioning wholesaler in Texas with a network of 12 branches, which added refrigeration to our US HVAC business. Combined, we added 27 new branches to the network, for a total of 231 branches at the end of the period.  
Reflecting on the outlook for the business, Wilson said, "Looking ahead, our markets are clearly softening, and customer demand trends are mixed. Our assumption is that inflation will moderate further, and volumes will continue to decline. In this setting, we will maintain our disciplined approach to cost while investing to build a stronger business through the cycle. We are able to take a very long-term view and will maintain our focus on executing our strategy to 2030 and beyond."
Read more in our FY23 Annual Report.